Image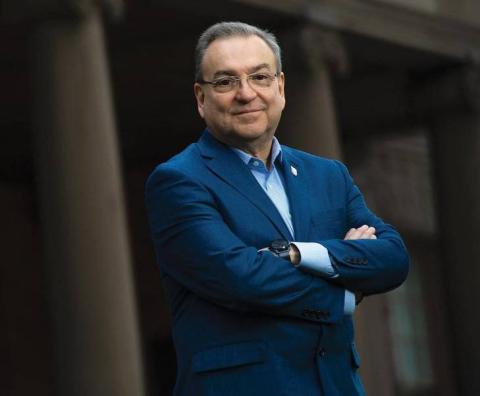 Antonio M. Calcado is the Executive Vice President and Chief Operating Officer at Rutgers, The State University of New Jersey. Rutgers is a leading national research university, and the State of New Jersey's preeminent comprehensive public institution of higher education, serving a student population of 70,000 and supported by a workforce of over 27,000.
In a career spanning more than 30 years, Calcado has held a number of leadership positions at Rutgers, including Vice President of Facilities and Capital Planning and Senior Vice President of Institutional Planning and Operations. In 2016, Calcado was appointed Executive Vice President of Strategic Planning and Operations and Chief Operating Officer. He is currently Executive Vice President and Chief Operating Officer.
Calcado's span of authority encompasses oversight of the division's $510 million operating budget inclusive of auxiliary, retail, facilities, transportation, capital planning and construction, safety and emergency services. Calcado is a leader in negotiating and structuring complex private public partnerships generating over $1.0 billion in returned equity through entrepreneurial partnerships with the development community as well as local, state, and federal authorities. He has leveraged assets both inside and outside the university in order to strengthen its ties to the financial markets positively impacting the university's balance sheet.
Operationally, Calcado is responsible for the stewardship of all of the university's physical assets across the State of New Jersey, totaling over 30 million square feet and valued in excess of $12 billion. He is responsible for public safety, crisis and emergency management, housing operations, parking, capital and master planning, real estate, transportation, facilities operations, design and construction.
Calcado has developed service level agreements for all operational units and is a functional leader in the implementation of the Responsibility-Centered Management budget model, the baseline for entitled services for the entire university community. Through 2022, by employing finite qualitative and quantitative analysis, streamlining institutional organizations, and leveraging cross-campus assets, Calcado implemented innovative expense reduction initiatives resulting in cumulative institutional savings of over $250 million.
Providing direct university-wide oversight for University Facilities, Business Services, Strategic Services, University Public Safety, Codes and Standards, and Planning, Development, and Design, Calcado is responsible for 2,800 dedicated associates, representing six functional areas and four campuses. As an operational leader, Calcado provides all support services, which ultimately facilitate the university's educational goals and advance its commitment to teaching, research, clinical and medical education and practice.
Regarded as a national authority on deferred maintenance, some of Calcado's major accomplishments include establishment of the university's Physical Master Plan, which produced strategies for future growth that respond to the university's long-term goals; design and execution of Rutgers 2030, the university's first comprehensive physical master plan to incorporate Rutgers Biomedical and Health Sciences; implementation of $3.35 billion of capital construction, both active and realized; deployment of Integrated Work Management System, which sequences operations and optimizes productivity, threading together all of Rutgers' campuses as well as assets; implementation of new 911 security, GIS mapping, and Space Management Systems; and integration of advanced cross-state technology systems.
With countless accomplishments, initiatives and implementations realized, Calcado has a legacy of contributions that have solidified Rutgers' reputation of world-class research.
Calcado earned his Bachelor of Arts degree from Seton Hall University and his Master of Public Administration degree from LaSalle University. Calcado has completed professional development study and research through the Association of Physical Plant Administration Institute of Facilities Management. He is an active member of the Association of Higher Education Facilities Trust Officers, the Society of College and University Planners, and the National Association of College and University Business Officers. Calcado is fluent in three languages, is a very active campus contributor to numerous university committees and advisory boards, and has provided civic service volunteerism for the Essex County Utilities Authority and the Livingston Board of Education.